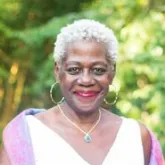 Marie Francis is a nationally board-certified counselor, licensed in North Carolina as a Licensed Clinical Mental Health Counselor, Licensed Clinical Addictions Specialist, National Board Certified Counselor and Distance Certified Counselor. She holds a Master's degree in Psychology with primary focus on Marriage and Family Therapy from Phillips Graduate Institute in Encino, California. She received her undergraduate degree in Business Management from the University of Phoenix.
Ms. Francis began her counseling career in the mid 1990's as Assistant Director of Career Counseling at Southwestern Law School in Los Angeles. She was inspired by her counseling work with law school students and was encouraged by her mentor to pursue graduate education and professional licensure. While pursuing her graduate degree, she worked in community mental health Southern California where she provided counseling to high-risk populations with mental health challenges as well as psychosocial stressors of poverty, domestic violence, substance abuse, child abuse and issues related to immigration and acculturation.

Ms. Francis has always been fascinated by the multi-generational patterns of behavior and social interaction that impact the way people live, work and relate to each other as life partners, parents, siblings, employees and community members. After completing her graduate studies, she established a private practice at Westminster Counseling Center in Pasadena, California.

Ms. Francis created The Maycis Group, a trauma-informed and culturally inclusive psychotherapy practice, in her adopted home in North Carolina
in 2008. She had broadened her practice to serve individuals and couples throughout the state of North Carolina through virtual counseling (Telehealth). Virtual counseling became necessary during the Covid-19 pandemic and has proven to be a convenient method of serving clients who may have childcare challenges, or couples who may be in different locations within the state. Ms. Francis continues to welcome new clients, providing solution-focused counseling for couples and individuals seeking to repair, maintain and enhance relationships or recover from the effects of past trauma. She welcomes couples of any configuration, and encourages pre-marital counseling.
In her non-working life, Ms. Francis enjoys traveling and spending time with her family, including her joyful granddaughter, Safia.
Call (910) 202-6110 or email [email protected] to schedule an appointment.
---
Professional Credentials and Memberships
National Certified Counselor (NCC)
Distance Certified Counselor (DCC)
Member, Licensed Clinical Mental Health Counselors Association of North Carolina (LCMHCANC)
Member, Addictions Professionals of North Carolina (APNC)